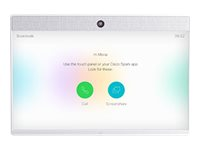 Cisco Single - LCD-skjerm
4K - 70"
Informasjon

Powerful and feature-rich video systems with the ultimate video and audio quality
The next generation HD video collaboration codec
The next generation HD fully automatic camera
Everything you need in one unit
Brings intelligent views to medium to large-sized rooms with discreet, integrated cameras
Great audio experience with integrated speakers and external microphones
Automatic wake-up - system ""wakes up"" when someone walks into the room, and recognizes them through their mobile device
End-to-end security
Supports dual content sources for local meetings
4K content sharing
Wired or wireless content sharing

Cisco Spark Room 70 delivers the unmatched video and audio experience customers have come to expect from Cisco. In addition, excellent capabilities enable even smarter meetings, smarter presentation capabilities, and smarter room and device integrations - further removing the barriers to usage and deployment of video in medium to large sized rooms. The Room 70 - comprising a powerful codec, a quad-camera, and 70" single 4K display with integrated speakers and microphones - is ideal for rooms that seat up to 14 people. It offers sophisticated camera technologies that bring speaker-tracking and auto-framing capabilities to medium to large-sized rooms. The product is rich in functionality and experience but is priced and designed to be easily scalable to all of your conference rooms and spaces - whether registered on the premises or to Cisco Spark through the Cisco Collaboration Cloud.